en.ship.org.ua - Vessels for sale. Purchase vessels.
211' DP2 AHST Support Vessel
For additional info, please login: Login, Register for free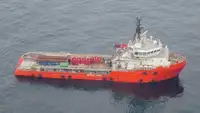 Category
Towboat
Flag
Singapore
Build year
2002
Place of build
INP Shipyard in South Korea to an advanced UT738 design
Length overall (LOA), m
211
Beam, m
15
Ship draft, m
5.7
Deadweight tonnage (DWT), t
abt.
Show all ships relevant to this (id8171)
Vessel inspectable upon arrangement.
All info is given in good faith but WOG.
Please don't hesitate to contact us any time if any interest: Contacts


Send a request
Main menu
Contacts
Search for vessels
Latest News
December 16, 2021
Updated design
Website design has been updated. Each page is adapted for mobile phones. Enjoy you ship search!
December 1, 2021
Changing the principles of cooperation
At the moment you can sign to our subscription. Cost is $300 for annual subscription. You will receive the WHOLE database, plus new proposals throughout the term of the subscription. Contact Us